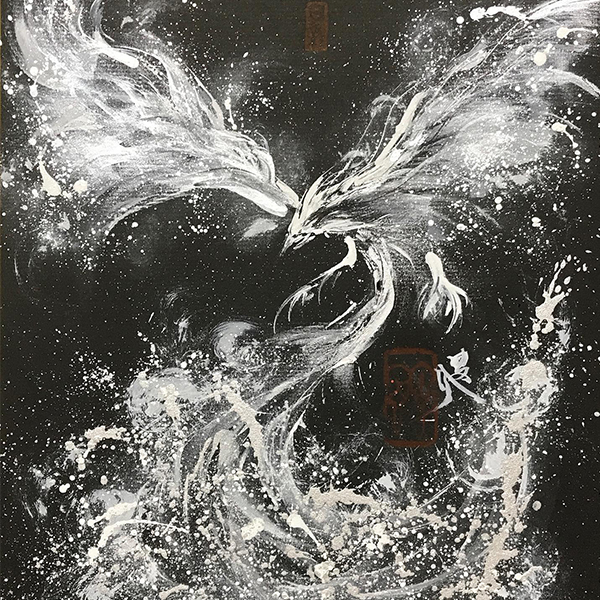 One of the best works of colored paper size new work
⭐️Formally registered on the official website⭐️
(1) Husband and wife should be on good terms, like male and female decoys. (2) When the phoenix flies, other birds follow it, so it is a parable of many sages gathering under the bright heavenly son.
At first glance…it looks like a single bird,
Draw two phoenixes on the left and right wings,
A work depicting the relationship between males and females
You have to get along with
Not only family, friends and acquaintances
We must avoid trivial conflicts between nations, races, religions, and everything else.
Whether it is a territorial dispute, or an ethnic/religious dispute that develops into a war,
Simply put, it's because they lack the "heart to accept each other".
Most of SHU's sumi-e works incorporate the concept of barrier-free,
If there is no war in the world,
I don't need to draw something like this…
Therefore, when I stop drawing, it will be when there is no more war in the world.
Only then can the SHU Sumi-e phoenix rest its wings.
Until then, you'll be flying through the air…
☆☆☆☆☆☆☆☆☆☆☆☆
event information
4/28 (Fri)
At Osaka City Central Public Hall
The first event in the history of music and sumi-e
Mini-Oke x Sumi-e Concert Performance! ️
This is the best event that you can enjoy both music and art at once!! ️
If you miss this opportunity, you won't be able to see it anymore
[Place] Osaka City Central Public Hall
National important cultural property facility
〒530-0005
1-1-27 Nakanoshima, Kita Ward, Osaka City
Naniwabashi Station or Yodoyabashi Station
[Date] Friday, April 28, 2022
[Open] 14:00pm
[Start] 14:30pm
[Membership fee] 6500
[Venue] Small meeting room
(Note) Reservations are accepted by DM. Seats are limited☆
☆☆☆☆☆☆☆☆☆☆☆☆
[Permanent exhibition location of ink painting works]
✨ More permanent works!! ️!! ️✨
4-16 Kawaicho, Tochigi City, Tochigi Prefecture
Phone: 050-5359-7563
Eat Me Sandwich 2F
Gallery Yui
(*) Please come and visit us
[Gallery business days / business hours]
water, wood, gold
11:00am-4:00pm
Day
11:00am-1:30pm
Regular holiday
Mon, Tue, Sat
(*) However, business days and regular holidays may change depending on circumstances.