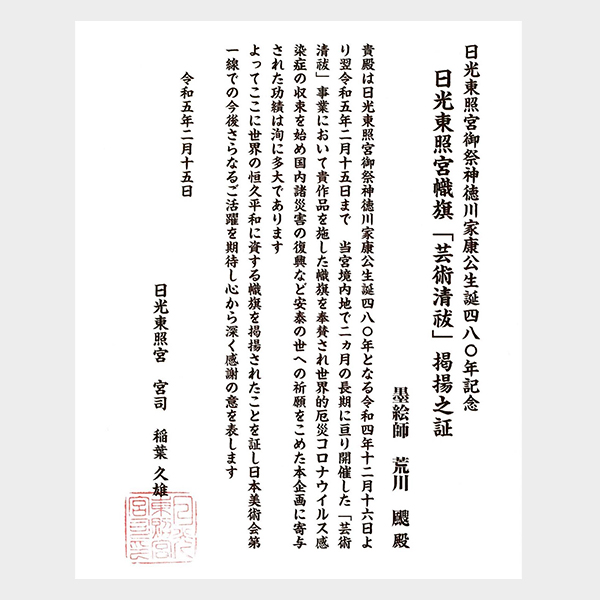 From December 16th, 2022 to February 15th, 2023, a major event commemorating the 480th anniversary of the birth of Tokugawa Ieyasu
Art cleansing was successfully completed,
Displaying the work "Suzaku Ranbu"
I have accepted the "hoisting certificate" 🙇
Below 📃
Sumi-e artist Yuden Arakawa
"You are the enshrined deity of Nikko Toshogu Shrine. From December 16, 2022, which is the 480th anniversary of the birth of Tokugawa Ieyasu, to February 15, 2023, you will stay in the precincts of this shrine for a long period of two months. In the "Geijutsu Purification" project, which was held over the course of the event, the flag that was decorated with your work was praised. The contributions that have been made to the .
Therefore, I would like to express my heartfelt gratitude to you, proving that you have hoisted a banner that contributes to lasting world peace, and I look forward to your continued success on the front lines of the Japan Art Association."
February 15, 2020
[Hisao Inaba, chief priest of Nikko Toshogu Shrine]
☺️ I am very happy to think that I was able to contribute to peace in this way.
Many worshipers who visited Nikko Toshogu Shrine, people who supported us,
Nikko Toshogu Shrine and related associations
supported by various people
I have myself now.